Lil' Buddy's Northern Territory Weather Report
Lil' Buddy's Northern Territory Weather Report

21 Aug 2016
90
32
51
11
44
Lil' Buddy's Northern Territory Weather Forecast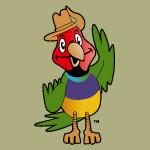 It is now the Dry Season of Late Winter!
Saturday: Fine and mostly clear with light SE winds.
Food is becoming scarce and we have stopped breeding!
Sunday: Fine with a mix of cloud and sun.
We will soon begin our moult!
Monday: Fine and partly cloudy with S by SE winds.
Length of Day: 11 hours 39 Minutes.
Gouldian weather data is gathered from the northern most regions of Australia's Northern Territory, primarily in and around the vicinity of Katherine. Currently, the Gouldian Finch's remaining habitat can be defined by drawing a line roughly from Katherine to Broome, which is located in the Kimberley District of northwestern Australia. The climate of this region of Australia can be defined as tropical, but with two distinct seasons: The Wet Season of Summer, and the Dry Season of Winter. Within a beautiful geography of rolling hills and savanna woodlands of Eucalyptus trees, and an understory of native grasses such as Cockatoo Grass, Golden Beard Grass, Kangaroo Grass and the staple Sorghum Grass, the Gouldian Finch makes its home.

Photographic Image Courtesy of Mike Fidler, Copyright 2012 All Rights Reserved.